Oh dear readers, in case you were wondering, this is what to send me the avid chocolate lover, read on!
I was going to buy my step-dad a $50 box of Scharffen Berger cocoa powder to feed his chocolate habits. He currently likes to add Hershey's syrup to his every coffee and keeps a squirt bottle in his brief case. But I realized that unless you're a cocoa or mocha fiend/snob like my husband, it would just be a very sad waste of cacao beans and space in his pantry.
So then my mind wandered over to these little gems that Sunny introduced me to and I thought I should pass along the find to you.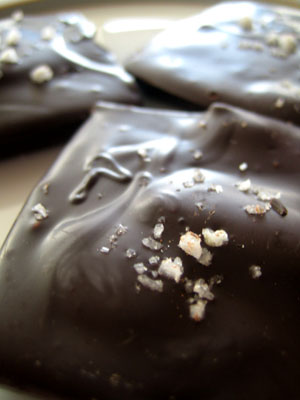 If you want to buy a truly decadent chocolate gift for the spicy person in your life, you absolutely must get some of these $$ chocolate tiles. Flavors like Aztec Chile and Burnt Caramel or Ginger are infused into the dark chocolate and I'm getting a little droolly just thinking about it.
Bittersweet chocolate combined with the finest ingredients from roasted almond to bits of burnt caramel toffee and finished with grey sea salt. Our tiles are made by hand in our San Francisco kitchen and packed in our signature blue box. from bits of burnt caramel toffee to roasted almonds.
Spicy sweet. And it's at the stupid price point that is crazy to buy yourself and only Santa can afford.
Related links:
> Read a rave review on thenibble.com
> Buy me (or someone you love) 16 Aztec Chile tiles for $34 at pocodolce.com
> Get way too much cocoa powder for $50 at scharffenberger.com