Since I always think about how people can let a baby be a baby while not completely babyfying their home, I have some suggestions that are win-win for babies and parents. These alphabet letter magnets, decoupaged with stylish origami paper, are only $20/set from Etsy – so you can teach your child about letters AND aesthetics at the same time!
And while we're on the subject, instead of the usual "A is for Alligator"-type animals poster, how about this Modern Classics Alphabet Poster? Beautiful rich colors and clean lines teach Junior that E is for Eames, L is for LeCorbusier (only $35).
I'm also really feeling these racecar wall decals from ModernTots- they are almost good-looking enough to go in any room of the house ($45/set).
The Daddy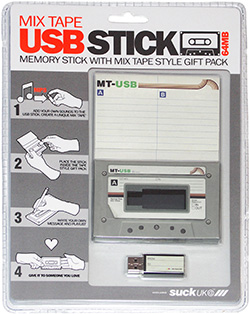 I am loving these District Cotton recycled billboard bags, starting at $54 – he can tuck away his laptop OR diapers and a sippy cup in these super stylish, handcrafted, one-of-a-kind bags made from old billboards.
Or, give him the updated form of the most romantic gift that ever was — the mix tape. Suck UK has a USB mix tape drive that looks like a tape, but opens up to reveal a USB drive you can load with all of those songs you used to love, before your auditory world was dominated by the Wiggles and the Backyardigans. Grown-up songs ONLY, OK?
The Mommy
Staying up all night with a screaming child can really ravage the look of your skin, but a touch of the Bare Minerals foundation powder will give you the illusion that you are a fresh-faced young thing who has never even heard the words "nipple chafe". It takes about 5 seconds to apply and it's SPF 15 to boot! A $50 gift certificate will get her (or you) the Kabuki brush and a powder of her choosing.
This one is a major splurge — but for $1100 you can get a glider, which we all know is the necessary objet of early babyhood, that's really great looking.
I've always been partial to these probably-super-impractical-but-gorgeous silk shantung OopaBaby slings. Give it (or get it) before the holidays though, so you can wear it out to all of the holiday soirees! They start at $79 and there are some that come in more everyday fabrics as well, if you think the equation of baby+silk = disaster.
The Big Family Gift
What could be better than a colorful DNA print of the whole family's DNA? DNA 11 will send your gift recipient cheek swabs and instructions, and then create a surprisingly beautiful and colorful print of each family member's DNA. They start at $390.
Or — and this is not such a big splurge gift, but would be super cool — if you're crafty, take this idea of the "Missing Husband Pillow" from craftzine and make a pillow that represents each member of the family so you never ever ever have to miss each other. Plus if your real kid is being bratty you can momentarily take solace in your silent and always well-behaved pillow-child.
The Grandparents

Since the grandparents are so kind and generous to everyone else (at least in my family) you have to get them something good. Maybe the grandparents are hipsters too… in which case you can order custom prints of your kid in a Warhol-style poster. Send your photos into PopArtWorks and they'll do it for you. They're not cheap, so if you're a) clever, b) own Photoshop or know someone who does, and b) and live near a Kinko's, then try Melissa Clifton's online tutorial and make your own!
To highlight tiny pictures of their lovely grandchildren get them this lovely Slide Light from The Conran Shop for $285 that they can fill with their favorite photos and change at will. And don't worry — you can send your digital pictures here and for about 2 bucks a pop, they'll mail them back in 35mm slide form!
—-
Thanks to Karen for inspiring both outrageous spending sprees and thrifty craft projects! Since she's the only childless in her family, they count on her to keep them hip at the holidays… while they give each other sweatsuits, power tools, and other such necessities.
If you're itching for more, check out 39 mom-tested holiday gift ideas in the Rookie Moms Holiday Shopping Guide.