I wonder if my friends Deb and Elliott, now parents to two kids ages zero and two, remember when they had no children of their own and they hosted a Hanukkah party where the rest of us let our kids run wild in their house. The astounding thing about their home — that our kids had never before seen — was that they had NO toys. Or so they thought.
Scarlett was a maniac toddler who helped herself to removing and tasting all the delicate ornaments on their Christmas tree, and Holden kept throwing their fancy throw pillows. (Hey, why are they called THROW PILLOWS?) In this excerpt from our new book Stuff Every Mom Should Know, we guide you to some better choices for playthings should you find yourself in a toy-free house.
Six Toys Found in Any House
Most adult homes have lots of hidden toys yet to be discovered. This little-known fact can come in handy when visiting your cool child-free friends (or the grandparents!). Our six ideas will prevent you from toting your entire toy chest for the afternoon.
1. Masking tape or painter's tape. You can create an indoor hopscotch game, train tracks, or even a tiny city using a little tape and some imagination.
2. The kitchen sink. Find a place where it's okay to get a little splashy and let your child wash some plastic dishes or toys in the sink or a bowl. Have a hose outside? Even better! Put it on a slow trickle.
3. Blankets and pillows. See previous entry for instructions to make a killer blanket fort.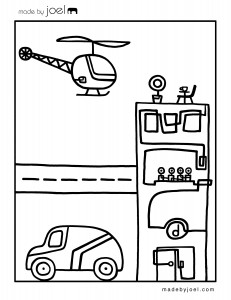 4. Paper and pens. With your supervision, the little one can doodle, draw, practice letters, and solve your homemade mazes without damaging the table-tops. Test your skills at airplane making. Add clear tape for fun that goes on and on.
5. DVD cases. A shelf packed with movies or video games is almost as good as a set of train tracks. Encourage your child to make a path out of the cases on the floor of the living room while the adults sit around drinking coffee.
6. A set of party cups. Paper or plastic cups can be used as little snack containers or the building blocks of a pyramid. A younger child can make a stack of 3 or 10 with some help. An older child can challenge herself to see how quickly she can make and unmake the pyramid. (Hand over your phone as a stopwatch.)
(coloring sheet designed by made by joel)