Julian asked me for a chef's hat. He does a lot of dressing up and pretend play, and seemed to have something in mind. He promised me that he did not mind when I said that it was going to be made out of red polkadotted fabric – the most suitable choice from my fabric stash. My brother is actually a chef and Julian has seen a formal picture of his uncle in a traditional chef hat, so I was pretty sure what I made would be a disappointment. I roughly followed this pattern, but made it sloppy because my client was an impatient preschooler and this was not a Home Ec exam.
My process was not worthy of doing a chef's hat tutorial for this post. Sorry. I do think that a chef is a good Halloween costume for a baby or kid because it's pretty simple and you usually want them to wear a hat on Halloween. It was only when I went to write this post that I learned you can buy one for less than $5.00.
Sure enough, my hat was disappointing, but not because of the pattern. Julian fantasized that the hat would be shaped like this:
But alas, it was not exactly.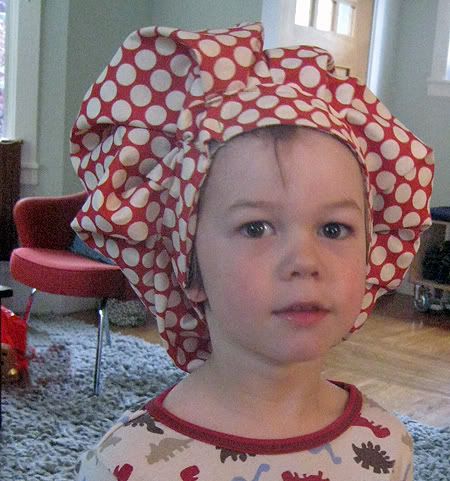 Still, when we realized he could put a dishtowel around his waist, hold a pad of paper and a pen, and look like a combination chef/waiter, he was completely satisfied with the addition to his dress-up box. I strongly recommend giving your preschooler the opportunity to be a waiter. It was hilarious to see how he treated me and Scarlett, his customers. (He did not earn a tip due to lack of eye contact and not bringing what we ordered.)
Oh, he tantrumed himself into a doorway last week– hence the Batman band-aid over his eyebrow in the picture.