Fellow Bay Area baby blogger, Catherine, sent us this agenda for a week's worth of preschooler activities in the South Bay. "Our family loves exploring the Bay Area," she writes, "and I write a blog about our adventures, explorations, and food finds. I've comprised a list with a bit of everything for each day of the week, so enjoy!"
Sunday, San Jose:

Start the afternoon by hitting up the Children's Discovery Museum in downtown San Jose. This museum is packed full of activities for kids of all ages, and since I have a toddler and an elementary school kid, finding places that can entertain both simultaneously are high on the priority list. The CDM has a full range of child-centered, hands-on activities that encourage creativity and imagination. There are numerous places to explore, and a bit of everything for every developmental level (even a pre-walker exhibit!).
After the educational entertainment check out Lincoln Avenue in Willow Glenn. This cute little neighborhood has a great strip with wonderful restaurants and shops. Aqui Cal-Mex is known for serving healthy Mexican fusion foods, hence "Cal-Mex." They boast all natural, organic ingredients, and daily and seasonal offerings. If you're looking for authentic Mexican food this definitely isn't the place, but the grub is tasty and the margaritas are large. The kid's menu is affordable, and I like they offer a side of beans, rice, or fruit along with the main meal. After lunch sidle over to Powell's Sweet Shoppe. Entering Powell's is tantamount to stepping back in time. Victorian England comes to mind. Charlie Bucket would not feel out of place in this shop (not surprisingly, Willy Wonka and the Chocolate Factory plays on a movie screen in the back of the store). There is candy everywhere; some of it mainstream, some of it nostalgic, some of it obscure, and all of it mouth-watering.
Monday, Santa Clara:
First, stop by Barefoot Coffee Roasters and pick up some java "to-go" (you're going to need it for what's coming next). Barefoot reminds me so much of the awesome "hole-in-the-wall" coffee houses we'd frequent in Portland, Oregon. It seems an unlikely addition to a suburban strip-mall, but it has an ultra hippie vibe, the baristas do that cool latte art thing, and the coffee is incredible.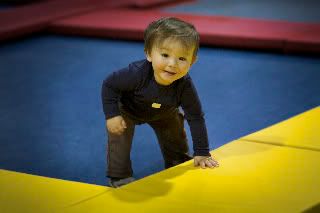 Now that you've had a jolt, you and junior can mosey on over to Sky High Sports on Mead for Toddler Jump from 12-2pm. This indoor trampoline arena is the perfect place to burn off some energy (and let's face it, calories). Have a blast bouncing on the trampolines, jumping in the foam pit, and playing with the dodge-balls. Yes, the place smells like gym socks, and yes, it's during core nap-hours, but there is nothing quite like the joy of an exhausted toddler and 3 hours to yourself when he finally crashes.
Tuesday, Palo Alto:
Set up a play-date to meet a friend at Palo Alto Children's Museum and Zoo! This little museum is a well known hang out for parents of toddlers in The Valley. The Palo Alto Jr. Museum is a small, hands on, interactive facility full of kid friendly exhibits. Alexander especially likes the "plink-o" boards, and the ball tubes. There is also an outdoor zoo with ducks, fish, birds, and bunnies to look at. Admission is free, but they request a donation to help fund future projects. Also, Rinconada Park is located right next to the museum…great spot for after visiting the Museum since they have a nice little play park and picnic tables.
Snack Time! Travel over to Fraiche on Emerson. This little organic fresh and frozen yogurt shop specializes in European- style tart yogurt. The base is organic, non-fat, and low sugar (I counter this by adding lots of Callebaut chocolate shavings). You then can add any number of delicious toppings like fresh berries, puree sauces, homemade granola, nuts, etc. I've got to say, this is one of our favorite spots for dinner as well!
Wednesday, Sunnyvale:
We go to birthday parities A LOT. And one of the hottest birthday venues in the South Bay is Pump-it-Up. What's not to love about giant inflatables and bounce-houses? On N. Fair Oaks there is a Pump-It-Up Jr that opens it's doors for drop-in from 10-11:30am on Mondays and Wednesdays for the under 6 crowd.
Once you're done running and climbing, head over to Giovanni's Pizzeria. This is another unlikely "hole-in-the-wall" joint nestled in-between a liquor store and a Vietnamese noodle shop. If you love NY style, thin crust, artery clogging goodness the buck stops here! Lunch crowds can get a little dense (so get here a bit before 12), but the service is fast, the food is great, and the setting is very kid-friendly and casual.
Thursday, Campbell:
Diaper Days is a totally awesome idea! You get to go to a grown up movie WITH your kid(s), and no one is going to complain if they eat, whine, yowl, or show off an exorcist-style vomit session (well…maybe the latter). Strollers are not allowed in the auditorium so it's probably a good idea to do the baby wearing thing. I tried this out with Alexander awhile back, and most of the kids were downright angelic! I must admit, I also enjoyed seeing a movie that didn't have a lovable cartoon character as the lead role for once. This is also, hands down, the best way to see all those chick-flicks that your husband would rather eat glass than sit through. The movies are shown at Camera 7 Pruneyard in Campbell (at 12:30) on the 1st and 3rd Wednesdays of each month. Additionally, Diaper Date Night is now offered twice a month if you and the hubby are feeling particularly ambitious.
After the movie, what better than some grub at the Sonoma Chicken Coop? Sonoma Chicken Coop is a no-frills, cafeteria-style restaurant. It's very kid friendly, has a wide selection on the menu, and is consistently tasty! Oh, and the Chocolate Fondue for dessert is mm, mmm, good.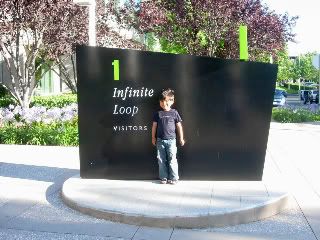 Friday, Cupertino:
Okay, so maybe I'm a bit biased since my Hubby works for the company, but there's nothing quite like visiting the Apple Company Store in Cupertino. It's the only location in the world to pick up Apple branded gear and gifts. Our son gets a huge kick out of all the Apple logo school supplies (pencils, lunch boxes, notebooks – yes, we've invested in them all). And they have a pretty cute collection of kid clothes, too.
After the retail therapy, head down Steven's Creek Boulevard to Whole Foods, pick up a picnic lunch, and then eat it under the gazebo at Memorial Park. There's some nice walking trails, a lake with birds and ducks, and a great kid park. Definitely a good way to start the weekend!
Saturday, Mountain View:
Sign-up ahead of time to take a One-Day Saturday Funshop class at the Community School of Music and Art. For $35 you and Junior can enjoy a two part music and art session with some of the finest early childhood education facilities around. The class is broken into two 45 minute sessions with a snack break in-between. Classes are developmentally appropriate, and is wonderful hands on exploration for any youngster. After the class, head over to Sushi Tomi for some edible art! This little Japanese restaurant has consistently fresh fish (the sushi chefs are passionate about quality), and tasty Japanese style entrees.
So this is where I leave you! Hope you enjoyed this little tour of Silicon Valley!