You only have a couple years to dress your baby as you want. After that, they want to be Doc McStuffins, a Thomas train you've never heard of, or something you can't even buy, like "a thumb". (True story, and try making a thumb costume that doesn't look like a larger-than-life penis. Go on, try it.)
So while your baby is ignorant of your racy television taste, feel free to make him or her a pawn in your funny family Halloween costume. This time: Game of Thrones.
It helps if you have a real Pomeranian dog, but if not, a stuffed one will do the trick. (Pro tip: Amazon will charge you extra for a licensed Ghost plush toy; just get a regular white dog)
To make it a family costume like the incredibly awesome one below, or a mom and baby (or babies!) costume (keep scrolling!), lengthy blonde tresses are the key ingredient, in combination with dragon costumes for the little ones.
My sister had triplets this year…went with Queen of Dragons for Halloween
Dragon costume options: Amazon | HalloweenCostumes.com | FindCostume.com
A blogger known as Barefoot Blonde (who has a business of selling blonde hair extensions) knocked it out of the park with her family costume a couple of years ago.
Is your little dragon a newborn?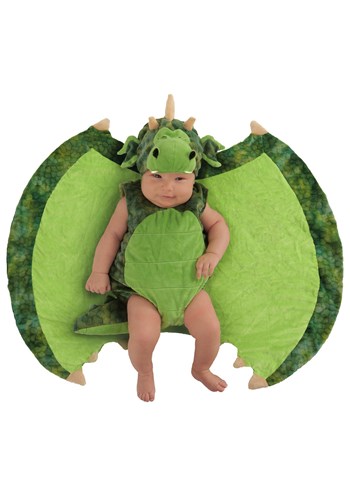 Infant Darling Dragon Swaddle Wings
from: HalloweenCostumes.com
Not into dressing up? Go easy on your own "costume" with a simple "Mother of Dragons" tee or sweatshirt.
Custom order exactly what you want.
Need a little Tyrion? This Etsy seller will make you an outfit of your choosing.