Julian is really really into dressing up. Every day he wears a costume for at least part of the day. He might be a chef, or Batman, a lemur, a scarecrow, AlphaPig, or a magician. While I have enjoyed the arrival of the costume catalogs over the past couple weeks, because each new one keeps him really busy for an hour, I have also come to realize that I have spoiled him. We have made enough costumes with existing supplies around our house, that he now believes he can point to any costume in a catalog, and I will make it for him.
Plus, he suffers the If-You-Give-A-Mouse-a-Cookie Syndrome. If you make him a cape, he's going to want a mask to go with it. If you whip up a mask, he's going to need a pair of boots.
Now when Marie invited me to preview her eBook, Monster Mania: Crafts for Little Monsters, I was eager to check it out. I love to invent my own craft projects, but I welcomed the chance to rely on another mom's creativity.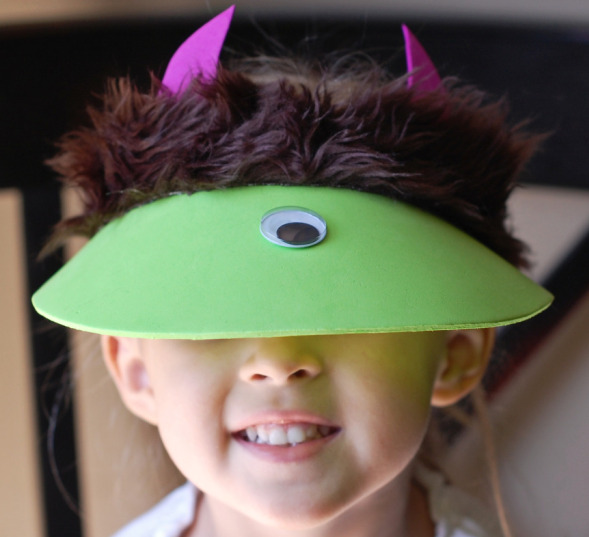 The monster theme and the age level were perfect for my little dude. So, today, while his sister kept remarkably busy with our collection of sippy cups and their tops* Julian and I sat at the computer together and paged through Monster Mania.
*And, seriously, it was remarkable. I know tupperware is great for 10-month olds, but for a two-year old who can speak in complete sentences and use the toilet, I had no idea sippy cups would prove to be so compelling!
The projects in Monster Mania feature clear photos of both the finished project and the required materials. Some include templates to help you along. None are very complicated. I very much enjoyed reviewing the PDF, but alas, Julian got caught up on one concept. I could have predicted this would happen.
"I want to BE a monster."
"So," I attempted to redirect him toward our mission, "you want to do one of the projects in the *Me The Monster* section?"
"No, I want to do them all."
He had a glazed over look in his eye that told me that doing even one project would be sort of challenging. Like he really needed a nap, but being four-and-eleven-twelfths-years-old, that is not an option. We already made a scarecrow for his room earlier this morning, and perhaps exhausted his crafting resources for the day.
"I want to dress up as a monster. Right now."
This is how it usually works. Read a book about any new topic, and we must start concepting a costume to go with it. My husband sent him to go through the dress up box by himself and come up with something monster-ish. But no, he was not going to budge. Dressing up with a monster implies that one of us help him select items from head to toe that will transform him.
And so I did my best.
Unfortunately, we never got around to doing any of Marie's projects. We were simply too inspired.