It can be hard to shop for gifts these days for teen boys because there are so many new items being released that it is hard to keep up! Plus, teens tend to be pickier than little ones. It was so much easier when they were two, four, or six years old. Lucky for you, we have you covered. Whether you are looking for a birthday gift, Christmas gift, or a just because gift, we have found you the best gifts for 14 year old boys for 2022!
The Best Gifts for 14 Year Old Boys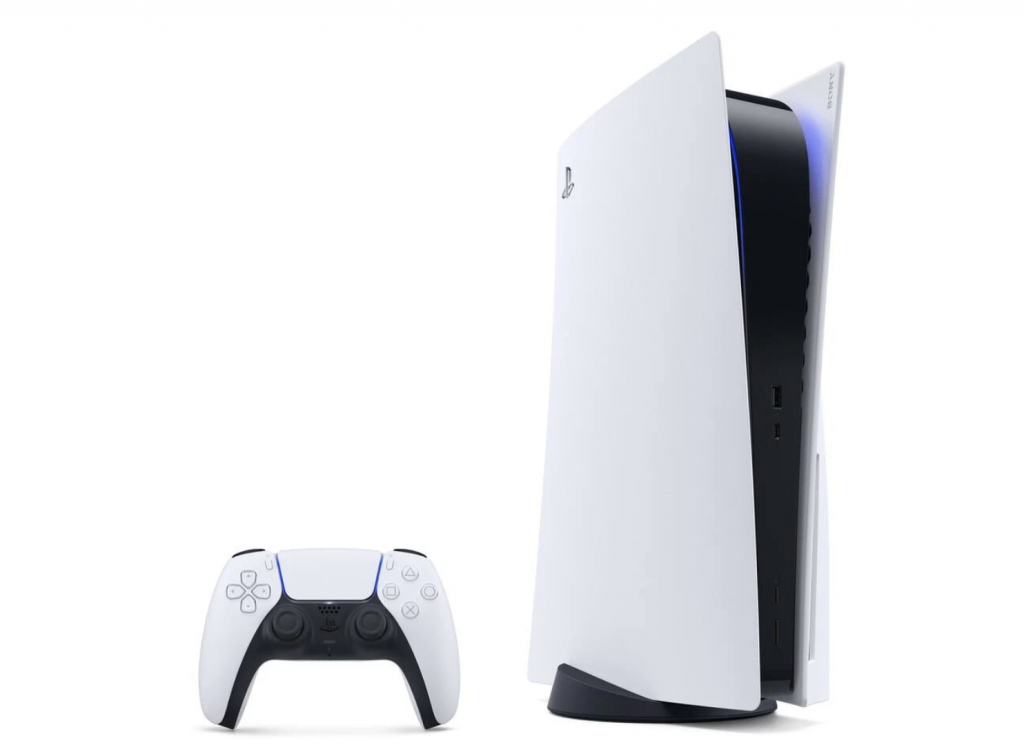 PS5 (Playstation 5)
This is the gift my 14, 16, and 18-year-old boys all want! It is definitely one of the best gifts for 14 year old boys.
The 5th generation PlayStation will have experience lightning-fast loading with an ultra-high-speed SSD, deeper immersion with support for haptic feedback, adaptive triggers and 3D Audio*, and an all-new generation of incredible PlayStation® games.
Whatever all of that means- if you have a gamer in your life, you can't go wrong with this one.
---
To go with his new PS5, you are definitely going to need some cool gaming headphones, like these from Turtle Beach.
These are equipped with superior 40 millimeter over-ear speakers that produce crisp highs and thundering lows. It's designed to work with multiple consoles and mobile devices and comes in a variety of colors.
Made with a lightweight design to ensure complete comfort during those hours-long gaming sessions–and synthetic leather-wrapped ear cushions provide added comfort, improved bass response, and better noise isolation. Another must-have item for your gamer!
---
Apple AirPods definitely one of the best gifts for 14 year old boys this year especially with the release of the AirPods pro. You can choose to go with the traditional AirPods, or get fancy with the AirPods pro. Both air pods have 24-hour battery life and customizable fit.
Either option gives the teenage boy in your life a stylish, quality, noise-canceling AirPods to listen to music, or chat with friends. All of my teens have AirPods on their Christmas List this year.
---
Airpod Case
Pair your son's new AirPods with one of these stylish cases to complete the ultimate gift! There are some fun Airpod cases out there; stylish ones like BAPE and Supreme Airpod cases and some great Starbucks cases for the coffee lover and Disney cases for the (you guessed it) Disney lover.
---
What we love about this gaming chair is that it swivels, folds, and comes in a variety of colors. You can fold it up if you need more floor space, it has a scratch-resistant base cover and durable fabric.
Its ergonomic design has 5 backrest positions and is made to alleviate hip pressure, waist fatigue, and support the neck and shoulders. You may even end up "borrowing" this one for yourself! This is one of the best gifts for 14-year-old boys, especially if they are a gamer!
---
Set your guy up with his own TV area and his very own Roku Express Streaming Stick. Roku Express lets you stream free, live, and premium TV over the Internet right to your TV.
It's perfect for new users, secondary TVs, and easy gifting, but powerful enough for seasoned pros. Even better, Disney+ and Apple TV are now streaming on all Roku devices! You can pair this device with Alexa if you have one. If not, maybe grab one and check another gift off of your list. This would even work great as a stocking stuffer, from Santa of course.
---
Get a Message from their favorite Celebrity with Cameo App Message
One of the gifts for 14-year-old boys that you may not have thought about! The day has finally arrived where technology is so awesome, that you can get a personalized message straight to your teen from their favorite athlete, celebrity, musicians, or even Youtube and Tik Tok stars.
Yes, you heard me right! You would be amazed by the number of celebrities on here! This might be the ultimate gift. Now, the more popular the person, the heftier the price tag, but this gift is sure to be one that he'll never forget.
---
It's never a bad time to stock up on some new gear for your guy, and Champion makes that really easy to do. Hoodies, joggers, basketball shorts, t-shirts- they have it all. Get free shipping with orders of $75+.
---
Vans "Off the Wall" were popular back when I was in school, and they are back in style again more than ever (which makes me feel old)! Although there is a lot more to choose from now. It's one of the best gifts for 14 year old boys because it's a classic shoe that can be worn with almost anything.
Not only are they a skate brand, but there are sandals too, and plenty of other gear for the active guy in your life. Choose from classic styles like the slip-on checkerboard or high-tops OR make a custom pair for your favorite teen. Having trouble deciding? Play it safe with a vans.com gift card.
---
Of course the iPhone has to be on the list. I was actually pretty skeptical about the iPhone 12, thinking it is pretty much the same as all the others. This one is quite different with incredible speeds at 5G plus the camera is pretty amazing. It is definitely a gift your 14 year old will love.
---
Best Outdoor Gifts for 14 Year Old Boys
Yes, teens do need a little more coaxing to get outside than your 6 or 8 year old boy. But, these games have been thoroughly used by my set of teen boys and I am sure yours will love them as well
Think volleyball and 4 square combined. Crossnet is a ton of fun and a great way to get your boys outside. The court can be setup pretty much anywhere. In your backyard, you can take it to the beach (it's a ton of fun there) or take it to a park.
The goal of the game is to score 11 points, check out the video below for details on how to play.
There are three different height levels to play on, so you can get the whole family involved.
---
The Lifetime 52" MVP Portable Basketball Hoop is sure to bring your budding baller hours of outdoor fun. It has an adjustable hoop, and can be moved around for convenience. With a 5-year warranty, it will withstand the wear and tear from your teen for years to come. Don't forget a basketball to go with it!
---
Who ever heard of rear-wheel drive on a skateboard?! Well, you have now! This is the latest and greatest in skateboards, and sure to excite your teen. It provides up to 40 minutes of continuous skate action at speeds up to 12 mps, and comes with a rechargeable lithium-ion battery pack.
Other features include a wireless, digital, hand-held remote control and maple deck. With a range of up to 8 miles, your son can easily get to his friend's house and back, and you can take a break from taxi duty! Grab one of these helmets to complete this gift!
---
Bottle Bash is our boys favorite game of the summer. This disc and toss game is outdoor fun for the whole family. Simply set up two poles from 20 – 40 feet apart with bottles on top and then break up into teams of one or two
The goal of the game is to knock the bottle off the pole with the frisbee. The best part is the team not throwing has to both catch the frisbee and bottle to prevent the throwing team from getting points. It is super fun. Great for the beach, the backyard, the park, or camping!
---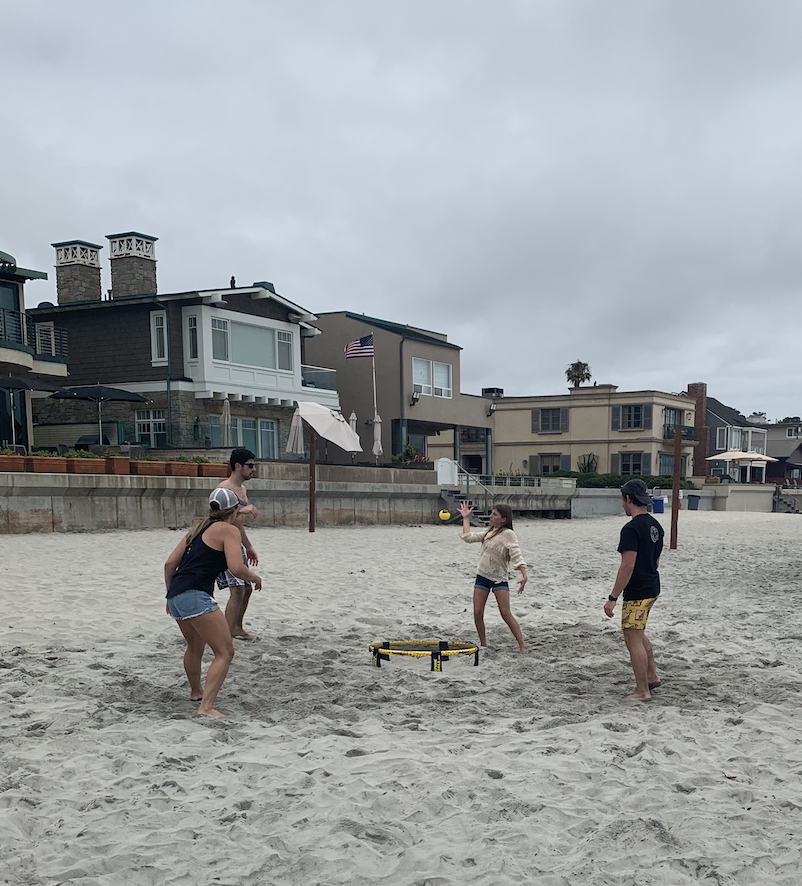 Our family enjoying spikeball on the beach
The inventors of spikeball describe it as: "if volleyball and foursquare had a baby it'd be named Spikeball". The best way to describe this game is by watching the video below. Your teen is going to love it!
We hope this list of gifts for 14-year-old boys will help make your shopping a little easier this year for your son, grandson, brother or nephew!
---
Pin for Later: The Best gifts for 14 year old Boys in 2022!