My very obedient 4-year old boy (I'm not even kidding – the kid is totally easy-going – except for during his last playdate with Holden) placed his Halloween candy outside his bedroom door on the night of October 31 and went to bed, anxious for morning to come. He didn't have to wait too long, because morning starts at 5.30 am when you are Julian and you are excited about something. His excitement was justified, because a little fairy (about 118 lbs) had replaced his candy with a toy! And hooray! It was a HOT WHEELS Trick Tracks Triple Stunt Starter Set
!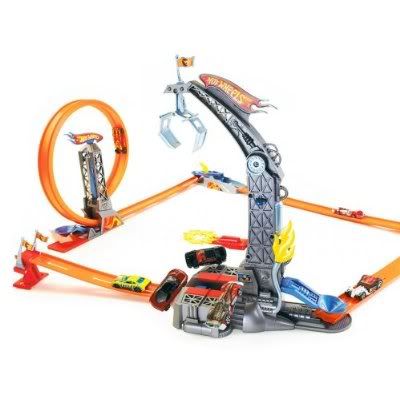 I told him he could put the box next to his bed but he could not get out of bed again until after 6.30 am, because it was Saturday morning FOR THE LOVE OF GOD. At the agreed upon time, he and I and baby sis gathered around the wonderous new product that had appeared in our house and began to explore.
Thirty minutes later I had assembled a race track with three different stunt stations. The highlight? When I struggled with understanding the directions, Julian said, "Mommy, you're so nice to set this up for me."
Together, we figured out the upside down loop, probably the most thrilling of the possible activities to do with the race track. Julian was off in his own world, though. So pleased with the whole thing – the idea that he gave up his candy, that he was sad to do it, but that it turned out to be worth it – he kept saying, "The fairy is so nice! She gave me this racetrack and I love it!"
By the time my husband woke up and joined us and, I shamefully confess, figured out the rest of the functionality of the track, it was the new favorite toy of the household.
Although Mattel sent this product to me so that I would review it for the ParentBloggers Network, I must say that we went to Target that afternoon and purchased another set for his friend Theo, and a new car ($.97 at Target — this is a collection habit I can deal with) for Julian. So Mattel, as we marketing professionals say, you gave me the razor, but I will definitely keep buying the blades as we are having so much fun with this racetrack!
a d v e r t i s e m e n t