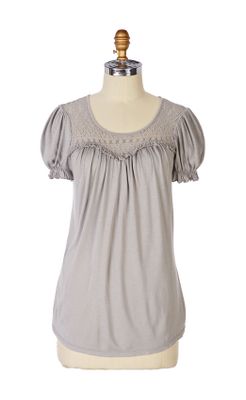 It's starting to drive me a little nuts that all the cute modern shirts that are in style right now look like maternity shirts. For $78 you can wear this lovely tee shirt from Anthropologie and look utterly shapeless. Awesome.
Dear readers, if you are secretly pregnant — rejoice! If you are newly post-partum — rejoice! These styles are made for you.
Dooce looked like a million bucks on the Today show, but her dress really got me wondering… how can you tell the stylish and the pregnant apart? I've been asked myself so I would *never* advocate asking anyone.
But if you are tired of looking pregnant and post-partum after four years of being those things (like me), what the heck are you wearing?!!
The following two tabs change content below.
RookieMoms co-founder & mom to 3 boys in Berkeley, CA. Bossy big sister and project manager turned blogger helping moms enjoy their first years of motherhood. Find me on my other site on
510families.com
or hiding in my minivan eating dark chocolate.
Latest posts by Heather Flett (see all)