When I was a little girl, I had no siblings. At my birthday parties, I frequently received board games as gifts, but they mostly sat on the shelf in my closet until I got too old for them. Sure my mom and step-dad and I played Monopoly from time to time; I played Sorry! with my next-door neighbor/best friend; and Candyland with my grandma. But, back then, the assortment was more limited.
After Scarlett's recent birthday party, during which she collected quite a few board games, I was chatting with Heather about which ones our children really like to play. After we collaboratively listed out a bunch of them, I realized that three new companies stood out as excellent designers of preschooler games. Blue Orange, I Can Do That! Games, and eeBoo are responsible for most of the organized turn-taking fun we have around here. While I still appreciate Hasbro and the other old-school brands, I think it's cool that there are so many new kids on the gaming block.
And of course there are more. Here's the rundown of eight games that we personally own and enjoy:
1. Angelina Ballerina Dance With Me! Game. Children get up and perform the moves on the game cards. The board is a diorama of a stage. Not only is my 4-year old enchanted by this game, but my 6-year old son also likes to perform.
2. Zingo. I should add another reliable brand to the list of game producers: ThinkFun. We love this bingo-style game and the plastic game pieces are fun to play with for three-year olds, even when not engaged in an actual game. Find it at Barnes & Noble.
3. Honey Bee Tree. Another refreshingly gender neutral toy, this game doubles as a solitaire activity when no siblings are available.
4. Picnic Game
by eeboo. Comes with a gingham picnic table cloth to set the mood. Players spin to fill their plates with main dishes, desserts, and drinks. This identical "spinner game" format is available in other themes: a tea party, building a robot, and fairy tales. Again the materials in the game can be used for open-ended pretending as well.
5.  Discovery Beach
from I Can Do That! Games features Curious George and tests kids' memory. A reviewer on Amazon wrote: The thing I enjoyed best was watching my 5 year old daughter help my 3 year old son to find things–they played together, rather than against each other.
6. Pengoloo is a good one from Blue Orange, as is Coocoo, an all wooden game in which you take turns balancing balls on a rocking clown. For kids who aren't ready to compete, this can be approached as more a cooperative building activity than a game. (Refrain from yelling "In your FACE!" when your three-year old knocks the clown over with her naive placement of the balls.)
7. I Never Forget a Face is a memory and matching game. The kids faces are from all over the world, and it's lovely to see all the skin colors and hair textures together in one game. Like I said, I'm a sucker for everything eeBoo. See all their products at Barnes & Noble.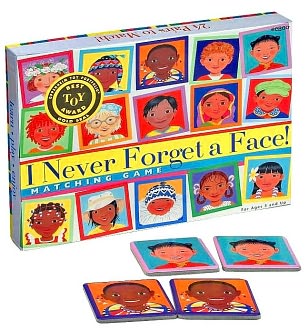 8. Busytown – The board game is half the fun in Busytown. It's longer than your preschooler's body.
This is a search and find game where everyone works together. My kids loved it for months but when I tried to validate their opinions for this post, they claimed not to. (See Thingamababy's review for details on this game.) We have another search and find game called Pictureka that was distracting them. I think they are both quality games and as my kids get older, even just month after month, they get more out of these.
What games do your kids like to play?
(Disclosure: I received Busytown and the Angelina game from my friend Kimberley, a rookie mom who does public relations for the company who makes them. Kimberley and I worked together at LeapFrog Toys well before our children were even a twinkle in our eyes.)

The following two tabs change content below.
RookieMoms.com co-founder Whitney lives with her husband, son, and daughter in the San Francisco Bay Area where she writes about parenting, crafts, and activities that moms can do with babies in tow. She and Heather also publish
510Families.com
, a site for East Bay parents and are the authors of
The Rookie Mom's Handbook
and
Stuff Every Mom Should Know
.
Latest posts by Whitney Moss (see all)