We asked our friend Kristen Chase, aka The Mominatrix, to help us help new moms upgrade to at least one nursing bra that doesn't look like it belongs to my grandmother.
The first few months of motherhood are far from sexy – that is unless you find leaky boobs, gigantic maxi pads, and under eye bags hot. But just because you're wearing a shirt that could walk on its own doesn't mean you should relegate yourself to a straight jacket nursing bra. Instead, here are five gorgeous, sexy alternatives that will give your boobs and your mood a hefty pick-me-up. Just be sure to keep them under wraps until that 6-week window is over. The last thing you need is someone else grabbing at your breasts.
Cake Lingerie – It's bras like the beautiful ones from Cake Lingerie that will make you feel like a woman, you know, instead of a completely exhausted feeding machine.

Read a full review at Cool Mom Picks >
Find one on Amazon
>
HOTMilk
– The New Zealand-based HOTMilk nursing bras look like they were taken straight out of a regular old lingerie shop, which is a nice treat when everything else you're wearing screams "mom."

Read a full review on Cool Mom Picks >
Shop HOTMilk brand on Amazon >
Isabella Oliver – Known for their swanky maternity designs, Isabella Oliver's Amoralia Nougatine Nursing Bra (and matching panty) are favorites of both celeb moms AND dads. Ahem.

Find it at Isabella Oliver >
Condessa – Condessa bras are simple, but definitely not subtle, however they could serve as a nice distraction when you're nursing in public.
Find it on Amazon.com
>
Read the full review on Cool Mom Picks >
Agent Provocateur – You may actually have to sell your baby to be able to afford an Agent Provocateur bra, but from the looks of them, it might just be worth it. (discontinued, boo)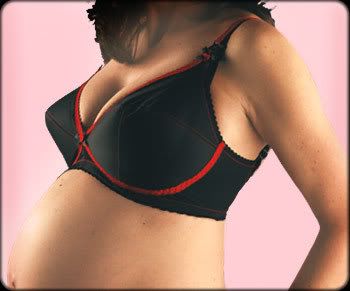 Read the full review at Cool Mom Picks >
Kristen Chase is a mom of 3, sex columnist, and author of The Mominatrix's Guide to Sex
, a funny, frank advice book for rookie and seasoned moms that will help whip your libido back into shape.